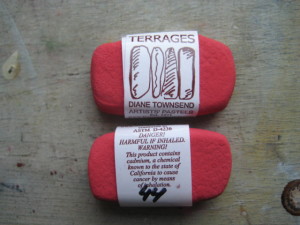 Terrages Pastels are larger pastels containing crushed pumice stone which enables the artist to open up the surface of paper and work in more color. The added pumice will also help create complex layers of color and a luminous sensation of depth and space. Terrages pastels are made in a size and shape that can accept a more forceful application without crumbling.
Each color of Terrages pastels is availible in several shades. See the full set on the All Colors and Full Sets page. The colors look better and more true to how they really look displayed in a photo image rather than a color chart!
Terrages pastels may be purchased in pre-packaged sets at our retail outlets listed on the Where To Buy page of this web site.
NEW SETS 2017  are seen below!
Terrages, approx. 1 and 1/2″ long and 1″ across , and 6/8″ thick